Welded pipe machine—on sale
Zhongtuo welded pipe machine adopts advanced welding technology and offers dual welding arcs, increased speed, higher deposition, superior mechanical properties and quality. Now we have four type machines like HG50, HG79, HG32 and HG127 high frequency welded pipe machine are widely applied for producing tubes for heat exchanger, refrigerator, frame of car, bicycle, fitness equipment, furniture, cooling machine, petrol transmission, construction industry, etc.
Now in the markets, those types of square pipes are quite popular like: 10x10mm, 15x15mm, 20x20mm, 25x25mm, and 30x30mm within the wall thickness of 0.5-2.5 mm. For catering to customer needs, we make machine for those on discount, if you need, please contact us in a hurry.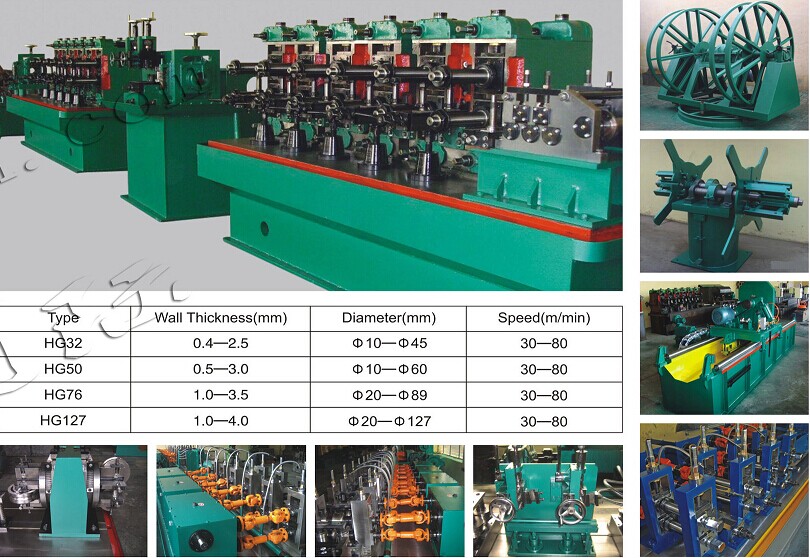 Features of Welded pipe machine
Take continuous production; there is no need to change the rollers in rough-forming section.
The quality mill is reliable in the welding seam technology.
The pipe produced by welded pipe mill covers most ss pipes which are currently used by build construction.
Straight seam welded pipe mill shares outstanding advantages such as low production cost and high production capacity.
New features this machine allows you to add company logo, production time and others on the finished pipe.
Main technical parameters:
Decoliler coil inner diameter: 450-550mm coil max width: 300mm 3.max carrying capacity: 1500kg
Usage: It is used to support the steel coil and uncoil it in a turntable way. Passive uncoil pulled by roll forming system
Leveling system:
Usage: put the raw material (steel plate) through the beach to manufacture and process, it can guarantee that the products are neat, parallel and everything is uniformity.
Please refer to the equipment regulation to know the function of locate angle iron.
Main roller system:1.Shaft material  &  rollers material & shaft diameter45# steel adjustable treatment; 45# steel, polished, plate of chrome 0.05mm;  60mm 2. power: 101kw 3. Transport;  Motor;    chain drive 4. Forming speed;   20m/min Usage: In order to keep the product shape and precision, adopts welded sheet structure, motor reducer drive, chain transmission,roller was chromed which can keep the molding plate surface smooth and not easy to be marked when it is being stamped.Material: blade, puncher and mold material: Cr12 steel with quenched treated 60-62
Shearing systemCutting system: advanced hydraulic drive, automatic cutting after forming, no distorting or wasting, high level safety factor.   It adopts the hydraulic drive and automatic location to decide the dimension and cut the target products. Material of blades: Cr12 quenched Power supply: hydraulic power Components: It contains one set of blade, one hydraulic tank and one cutter machine.