Automati Metal Roofing Corrugated Tile Roll Forming Machine Colored Steel Sheet Roll Making Line Production of color plate appearance of smooth beautiful paint pattern uniform, high strength, durable, widely used in industrial and civil buildings, such as factories, warehouses, stadiums, exhibition halls, theaters and other room surfaces and walls.
User parameters: the number of sheets, the length of the first section, distal, pitch, number of sections, pre-press section, and so on.
Color Automatic Glazed Tile Steel Roll Forming Machine Roofing Process Line with Elegant Appearance 
Technique parameters of the processing line 
(1). Suitable material to process: colored armor plate with the bending intensity of 235 MPA
(2). Thickness of the plate: 0.3–0.8mm
(3). Width of the plate: 1200mm        
(4). Productivity:1-8m/min
(5). Rollers: 12rows          
(6). Diameter of the roller:80mm
(7). Dimensions: major structure:6500mm*1350mm*1510mm
(8). Effective area for use: 1110mm
Processing technique and deployment
Processes: Man-made uncoiler—Roll forming machine—PLC system—Hydraulic system—mold pressing machine-Blade-Receiving table

3.some pictures for your reference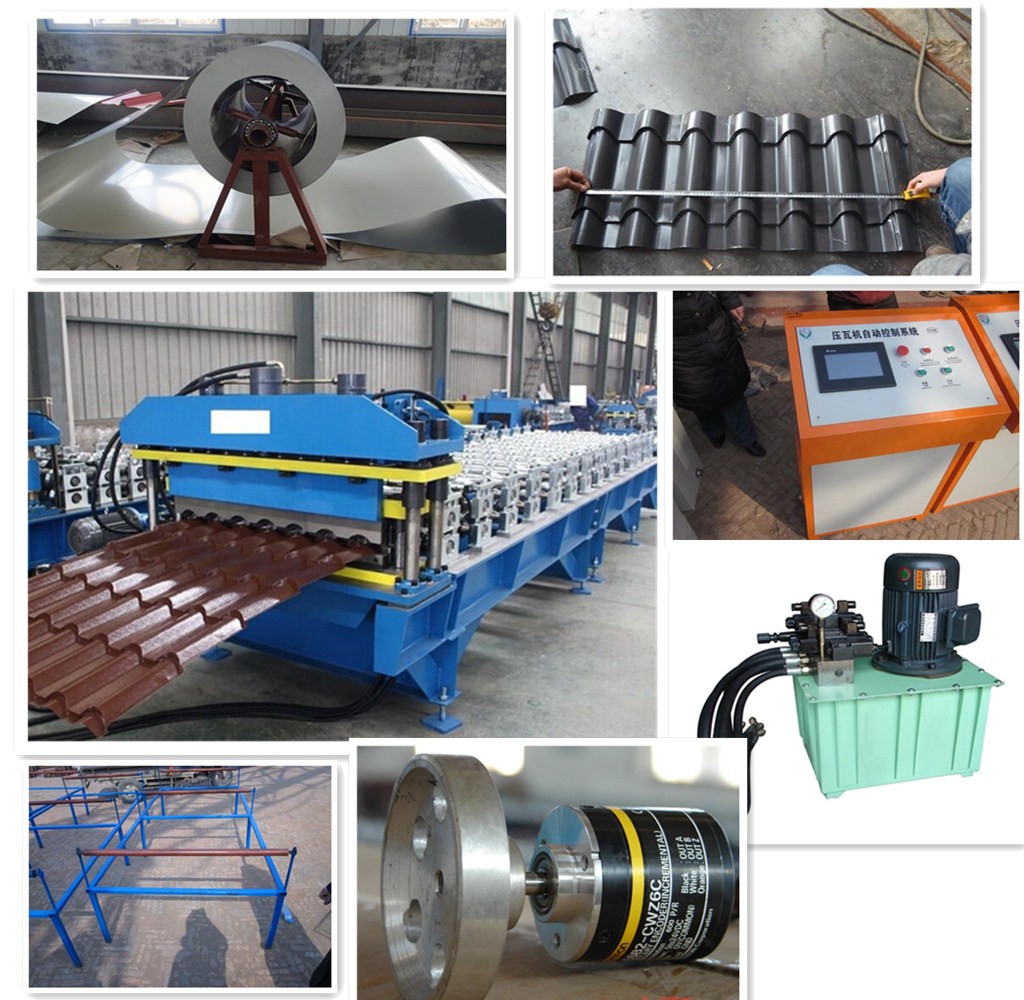 4.Components of line:
| | | | |
| --- | --- | --- | --- |
| No. | Name | Unit | Qty |
| 1 | Man-made uncoiler | set | 1 |
| 2 | Main machine for roll forming | set | 1 |
| 3 | Control system | set | 1 |
| 4 | Hydraulic system | set | 1 |
| 5 | mold pressing machine | set | 1 |
| 6 | Blade | set | 1 |
| 7 | Receiving table | set | 2 |
Summary of the structure
(1).Common uncoiled
Functional and structural characteristics :It is used to support the steel coil and uncoil it in a turnable way. The steel coil is uncoiled by hand. The uncoiler can bear 5t. It is suitable to process the coiled steel with the inside diameter 508mm .
(2). Feeding the material into the platform
Functional and structural characteristics :put the raw material(steel srip) on the plat to manufacture and process, it can guarantee that the products are neat, parallel and everything is uniformity. Please refer to the equipment regulation to know the function of locate angle iron.
(3). Molding core
Functional and structural characteristics :In order to keep the product shape and precision, adopts welded sheet structure, motor reducer drive, chain transmission, roller surfaces polishing, hard plating , heat treatment and Cr12 treatment .
Rolling CR thickness:0.05 mm
Rolling material: Forging Steel 45#
Material of the mold: Cr40. and the mold is heat-treated.
(4). Shearing mechanism
It adopts the hydraulic drive and automatic location to decide the dimension and cut the target products.
Match equipment : It contains one set of cutting tools, one hydraulic tank and one cutter machine.
Material of the cutting blade :Gcr12
(5). Hydraulic system
It is controlled by gear wheel oil pump. After filling the hydraulic oil into the hydraulic oil tank, the pump drive the cutter machine to begin the cutting job.
Match equipment :The system includes a set of hydraulic tank , a set of hydraulic oil pump, two hydraulic pipes.and two sets of electromagnetism valves.
Power of the oil pump:4kw
Hydraulic oil :40#
(6). Computer control cabinet  :
It adopts Panasonic PLC to control. The target piece's length is adjustable and digit of it can be adjusted. Computed mode has two modes: automatic and manual one. The system is easy to operate and use.
(7).Counter :
One counter gauges length, pulses, and decides length.
(8). Molded pieces receiving table
It adopts welded steel and supported roller to transmit the products. There are two frames with the length of 3m/one.
9.  Delivery date: 30days after receiving deposit.
10.  Packing: NAKED
11.  Sales clause: you should pay 30% of the total payment on the order day, after signing<Manufactured products purchase contract>, you can send person to inspect goods, then payoff the whole payment before shipping out the goods.
Email:cnzt008@zhongtuocn.com
ceo@zhongtuocn.com