Decking machine Floor deck roll forming machine
Floor deck is a kind of steel material for building the house. The warehouse, the supermarket, the airport.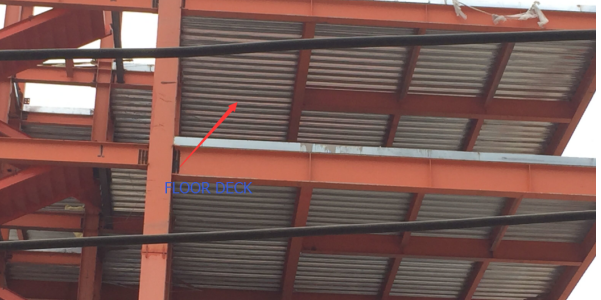 ZHONGTUO factory is professional making the floor deck roll forming machine, we can design the machine as your require and the floor deck thickness. Take the drawing below for an example!
The floor deck roll forming machine also include: The decoiler, the feeding system and the roll forming system and the cutting system. It si near the single layer roll forming machine.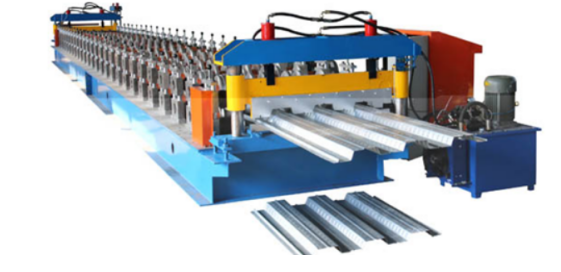 Below is main specifications of this floor deck forming machine:
Main parameters of ZT 915 floor deck forming machine
1 Suitable material galvanizes sheet/ colored coil
2 Width of the feeding material 1300 mm
3 Effective width of the plate 915 mm
4 Thickness of feeding material 0.8-1.2mm
5 Productivity 15m/min
6 Two Main motor power 11kw +11kw
7 Rollers' material 45# steel Rolling chromium
8 Diameter of shaft 90mm
9 Wall thickness of the main forming machine 22mm steel plate
10 Backboard Thickness 20mm
11 Cutting hydraulic system's motor power 5.5kw
12 control system, PLC
13 Dimensions of major structure 13000mm*1400mm*1600mm
14 Weight 14T
15 Stations 27
Processing technique and deployment
Processes: Manual decoiler — Roll forming machine — PLC system — Hydraulic system -Post cut - Run out Table
Components of line:
Un-powered; Â Â Â Â Â Â single head;
max.capacity: Â Â Â Â Â 5000kg;
Coil inner-diameter: 1300
(2) Feeding platform:
Function and feature: put the raw material (steel plate) on the plat to manufacture and process, it can guarantee that the products are neat, parallel and everything is uniformity. Please refer to the equipment regulation to know the function of locate angle iron.
(3) Roll-Forming M/C:
Steps: 11 Â Â Â Â Â Â Â Â Â Â Â Roller Material: 45# steel
Voltage:Â 3 phase/380 volts/50HZ(can be adjusted as your demands)
line speed:Â 8-12m/min; Â Â Â Â Â Â Â Â Â Rolling chromium thickness:0.05 mm
In order to keep the product shape and precision, adopts welded sheet structure, motor reducer drive, chain transmission, roller surfaces polishing, hard planting, heat treatment and galvanization treatment. The polished surface and the heat treatment towards the molds also can keep the molding plate surface smooth and not easy to be marked when it is being stamped.
(4) Cutting Mechanism
It adopts hydraulic drive and automatic location to decide the dimention and cut the target products.
Match equipment : one set of cutting tool, one hydraulic tank ,one cutter machine.
Stop to cut , Post cut      cutting length tolerance: ±2mm
Cutting tool material: GCr12 with quenched treatment 60-62℃
(5)Â Hydraulic System
It is controlled by gear wheel oil pump. After filling the hydraulic oil into the hydraulic oil tank, the pump drive the cutter machine to begin the cutting job.
Match equipment:Â a set of hydraulic tank, a set of hydraulic oil pump, two hydraulic pipes and two sets of electromagnetism valves.
Power of the oil pump: 4kw    Hydraulic oil: 40#
(6)Computer control cabinet:
It adopts Delta PLC to control. The target piece length is adjustable and digit of it can be adjusted.
Computed mode has two modes: automatic and manual one.
The system is easy to operate and use.
Processing precision : within 1.00mm
It contains liquid crystal screen, programmer, transformer for the electronic machines and kits of every part.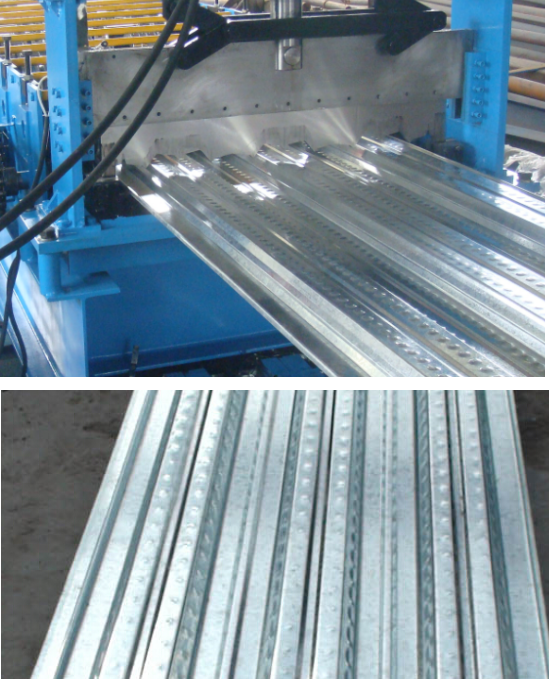 If you need the floor deck roll forming machine, kindly send us your requiry, we can design the machines as for your requirements.
The Email is: ceo@zhongtuocn.com