914 Building Weighing Machine
914 Building Weighing Machine is designed hydraulic automatic cutting machinery, the version is galvanized high strength steel structure floor panel, large span floor shop cement.
914 Building Weighing MachineINFORMATION
914 floor deck roll forming machine is designed hydraulic automatic cutting machinery, the version is galvanized high strength steel structure floor panel, large span floor shop cement. It is using PLC control system, touch screen operation, clear and easy to understand. Excellent sales in the market, ZHONGTUO will be more effort in production, and provide more professional high quality machinery for all customers.
Material:
1:Thickness of material:0.8-1.2mm
2:Uncoiling width: 1250mm
3:Effective width:914mm
Work flow: uncoiling–feedstock–main roll forming–shearing–discharge chute
5T handle uncoiling machineUsage: support the raw material, auxiliary materialWeighing:5TInner diameter:450-550mmthe biggest roll width:1250mm
Feeding
Use: the raw materials are flat into the machine
Before cuttinguse: save material
Roll forming machine
Use: rolling forming
Usage: in order to keep the shape of the products and precision, adopts welded sheet structure, chain transmission (the first and the last line, roll up and down through the chain is linked).
Voltage: 380v/220v,50hz/60hz,3ph
1:Material of shafts: 45#, GCR15 diameter of axle:90mm
2:Number of rollers:28 rollers
3:Chain drive
4:Forming speed:8-10m/min
5:main power:2X11kw
Shearing mechanismCharacteristic:
stable function, precision of speed and size
Usage: PLC control, automatic cutting

1:Hydraulic cutter
2:Material of cutter:G12 quenched 60-62℃
3:cut-out system: advanced hydraulic drive, automatic cut off, not deformation, no waste, high security level.
Hydraulic system:
Working principle: it is controlled by the gear oil pump. Filling the hydraulic oil into the hydraulic oil tank, after switch on the pump, cutter started to work.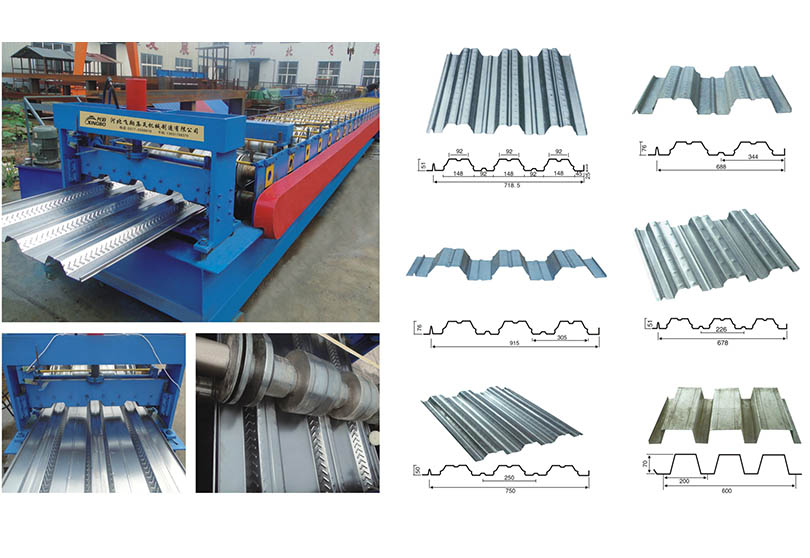 Power:5.5kw
Hydraulic oil:46#
components: the system includes a hydraulic tank, a set of hydraulic oil pump, two hydraulic pipe, two groups of solenoid valve.
Electric control system
1:Display screen:5.7 touch screen.
2;The host computer: Panasonic/taida/ Mitsubishi
3:Automatic measuring length, automatic calculation.
4:The computer can control the length of number, the machine can automatic cut when the steel arrive pre-set length, and the machine can automatic switched off when it is arrived pre-set numbers.
5:it is easy to adjustment of error in length

Counter:usage:
measuring length
Discharge frame
operating principle: steel welding, convenient discharging
accessories:
1:Easy damaged parts: conk 2 pcs, fuse
2:Rubber mat1 pcs
3:bolt spanner 1 pcs
Price and payment term
1:price
2:payment method: T/T 30% in advance and balance 70% after inspection confirmation before shipment.
3:Delivery: within 45 working days after receipt of after receipt of deposit
warranty:
1:One year, and we will provide the technical support for the whole life.
2:The buyer should charge of visa, return ticket food and accommodation overseas and USD50/person/day for salary.
3:Need one technicians.
4:Training time: one week (contains the time of installation and adjustment) .