Galvanized Steel Coils is also called hot-dip galvanized steel coils as it is produced by immersing steel in a zinc bath, which requires a pretreatment process when steel passing through different baths for preparing the surface zinc coating. First, use chemicals to clean surface of the steel then another chemical treatment for the steel coils passing through a bath of melted zinc at temperatures around 460 degree. When finished the products shows smooth and shiny appearance. To store for a longer period, the hot-dip galvanized coils can be delivered with a final oil coating, according to the customer demand. If processed by further cold forming and bending processes, it will has much better ability.
Where to use:
Galvanized steel coils are widely used in the construction industry, as raw material for the production of corrugated panels, fencing products, drywall panel profiles, ventilation systems etc. Recommend for both outside and inside usage, galvanized steel has a high resistance to corrosion in different environments, due to a protective layer of zinc of 100 180 grams per square metre.
Main specification of Galvanized Steel Coils:
Hot dipped galvanized coil Technical Data
Chemical Composition
GRADE
C
Si
Mn
P
S
Ti
SGCC/DX51D+Z
0.10
0.50
0.60
0.10
0.030
0.020
DX52D+Z
0.10
0.50
0.60
0.10
0.030
0.020
SGCD/DX53D+Z
0.10
0.30
0.50
0.05
0.030
0.020
SGCE/DX54D+Z
0.10
0.30
0.30
0.03
0.020
0.020
DX56D+Z
0.10
0.30
0.30
0.03
0.020
0.020
Structural
0.20
0.60
1.70
0.10
0.045
hot dipped galvanized steel coil Mechanical Properties
GRADE
Yield Strength MPa
Tensile Strength MPa
Elongation %
SGCC(DX51D+Z)
205
270
–
SGCD(DX53D+Z)
–
270
38
SGCE(DX54D+Z)
–
270
40
DX56D+Z
–
270
42
Further detail information:
| | |
| --- | --- |
| Commodity | Galvanized Steel Coils |
| Techinical Standard: | JIS 3302 / ASTM A653 / EN10143 |
| Grade | DX51D / DX52D/ DX53D/ S250,280,320GD |
| Width | Adjustable according to customer need |
| Thickness | 0.12-2.5mm (0.14-0.5mm is the most advantage thickness) |
| Type of coating: | galvanized |
| Zinc coating | Z60-275g/m2 |
| ID coil | 508mm or 610mm |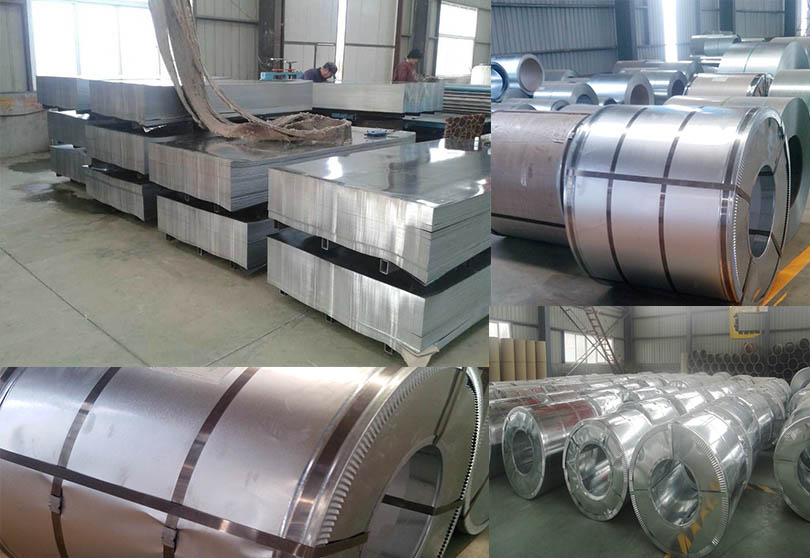 How to protect Galvanized Steel Coils?
Oiling–Putting oil on machine can reduce the corrosion of steel plate under wet storage conditions and then it is much more easier to store.  But when oiling, please make sure not damage the degreasing agent zinc layer.
Sealing–Put transparent organic thin layer coating on the surface of product can provide add additional protection against corrosion, especially fingerprint resistant. And when forming, this method can improve lubricity and then use the layer as bottom adhesion.
Phosphating– phosphating treatment is fit for various galvanized steel, in addition to the normal cleaning, no further treatment needed for phosphating. Resistance and anticorrosion coating adhesion can improve this process, reducing corrosion of the danger when storage and transportation. After phosphating you can add some suitable lubricant, this method can improve the forming performance of galvanized steel coils.
Note: we will not take any protection methods stated above without getting customer permission.
Packaging & Delivery
Packaging Detail:Standard seaworthy export package
Delivery Detail:According to the quantity or as per customer's request .
Why use ZHONGTUO?
ZHONGTUO is located in north of China, the biggest and strongest manufacturing base for cold rolling forming machine and materials. We have various kinds of machinery and production methods to meet customers increasing demand. Our factory has been built since 1996, so we have experience and ability to handle various needs even if it is hard to finish. Our products have been used and widely praised by our customers from more than 30 counties like Canada, South Korea, Russia, Holland, Surinam, Srilanka, Vietnam, Armenia, Bolivia and so on so forth.
Related products:
Color sheet coil
Aluminum and zinc plating steel coil
Aluminum plating zinc coil
Cold-rolled strip
Aluminum coil
Hot rolled steel strip