High quality hydraulic roofing sheet crimping machine/roofing curve machine
Roof curving crimping machine Steel Crimping Machine Curved Roofing Sheet Machine hydraulic curving machine roof curving machine is also the nickname of the following name. This type roofing sheet crimping machine has two types: one is for motor type and the other is hydraulic type. The following type I will show you the hydraulic roofing sheet crimping machine.
The following picture is about the roofing crimping machine.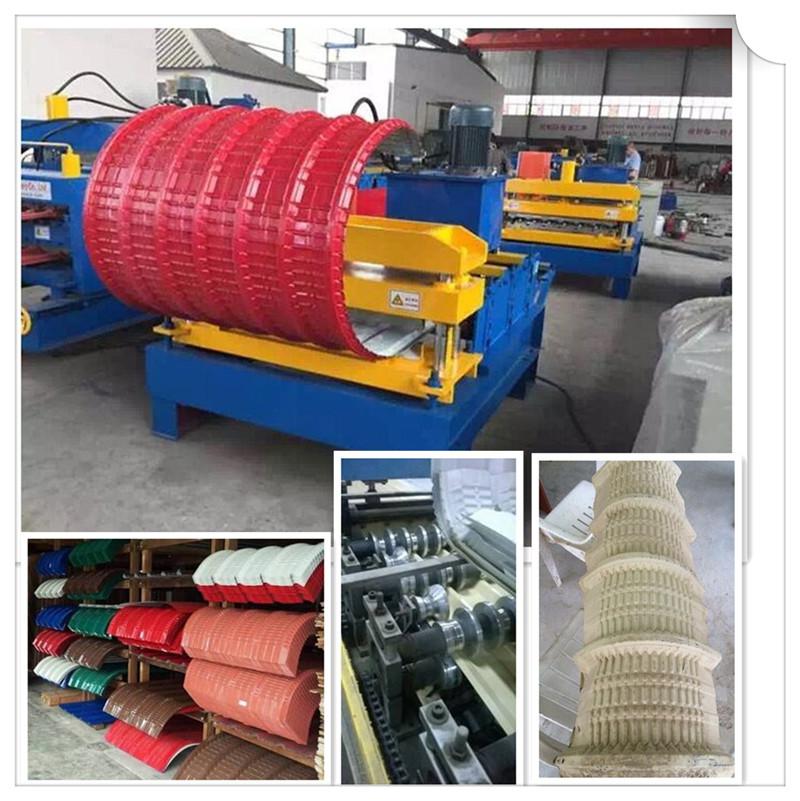 Main parameters of hydraulic roofing sheet crimping machine:
1.The frame: steel welding 2.Material: GI Thickness:0.3-0.8mm 3.Material of forming mold: Cr 12 steel with quenched treated 60-62℃ 4.Main oil pump press: 32mpa 5.Feeding equipment 1) Turbine worm reducer NMRV050 2) Rack driving 3) DC motor: calculates arc length automatically 6.Hydraulic system 1) Advanced hydraulic system from Taiwan 2) Power: 5.5kw 7.Automatic Control system 1) Screen: 5.7 inch DELTA screen from Taiwan 2) PLC: DELTA from Taiwan 3) Coder: ENC-1-1-1T-24 from South Korea 8.Voltage:380v 50hz 3-phase
Features of hydraulic roofing sheet crimping machine:
1.Support random roofing sheet type. Normal crimping machine only can support one type. 2.Allow you to adjust the crimping depth and bending degree. 3.The width of crimping and length could be adjusted easily by PLC. 4.Could be used to any length of sheet. As the guardrail could be adjusted. 5.Support any type of roofing material like aluminum, steel, galvanized and others. 6.Support big thickness range from 0.2 to 1.2mm. 7.Fully automatically and long time to use.
Here is the roofing crimping machine video for your reference:
https://youtu.be/ct-rw1S467g