Zhongtuo large span roofing sheet roll forming machine could be used to make various sizes and colors large span roofing sheets. And our machines have been put into production lines by many big and famous factories all over the world.
Our large span roofing sheet roll forming machine is made up by the following elements: De-coilerà Roll Forming Machineà Hydraulic Cutting Deviceà PLC Control Boxà Output table
Features of zhongtuo Large span roofing sheet roll forming machine:
Support many kinds of material like galvanized steel, colored steel, etc. And the material thickness from 0.8-1.5mm could be done.
Support to make various colors, shapes design large span roofing sheets in high speed.
Save energy and workforce, as nearly all the work could be done by machine automatically.
We use brake system on decoiler for in case of stopping suddenly, de-coiler can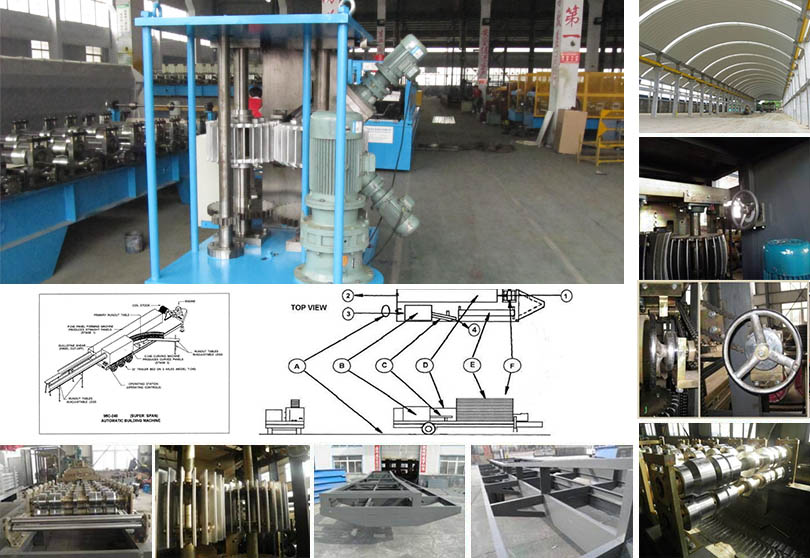 be stopped easily.
We take big diameter rollers, which can make the appearance of finished arch more beautiful.
The rollers and shafts are connected with pin inside and screw outside, and with reinforcing design on both sides of rollers, which can fix the rollers and shafts tightly without deformation.
Basic parameters of this large span roofing sheet roll forming machine:
Main Technical Specification:
Size: 11650mm × 2230mm × 2300mm
Total Weight:Â about 15000KG
Feeding Width:Â 1000mm
Effective Width:Â 800mm
Proper span: ≤18m
Sheet operating factor:Â 80%
Total MotorPower:18.9KW
Bending power:Â 3.0kw+1.1kwx2;Â Â Â Â Â Â Â Â Â Â Â Â Â Â Â Â Â Â Â Â Â Â Â Â  Sewing power: 2.2kw
Cutting power:Â 4.0kw;Â Forming power: 7.5kw
Controlling system:Â PLC & Manual
Cutting: Mechanical cutting
The depth of the groove:114mm
Equipped with generator
Material of roller shaft:Â 45# steel, galvanized
Material of rollers: 45# steel, quenched with hard chrome