Zhongtuo stone coated roof tile roll forming machine is composed by the following five parts: automatic bottom glue spraying equipment, automatic sandblasting room, first drying room, automatic surface glue spraying equipment and the second drying room. All the stone coated tiles made by this machine are lightweight, durable, and easy to install, windproof, and have fashion and nice appearance. This machine has long shape but you can put it in any comfortable status, so it will not take up much space. Meanwhile all the working process is automatic, so only one person can run this machine.
Basic parameters of stone coated roof tile roll forming machine
Working speed
6-10 sheet/min or 2000-5000 sheet/day
Machine weight
20 ton
Total installed capacity
AC380 50HZ
Material thickness
0.32-0.50mm
Steel plate width
1000-1450mm
Factory space requirement
25×80(m) temperature needs above 20 degree
Control system
PCL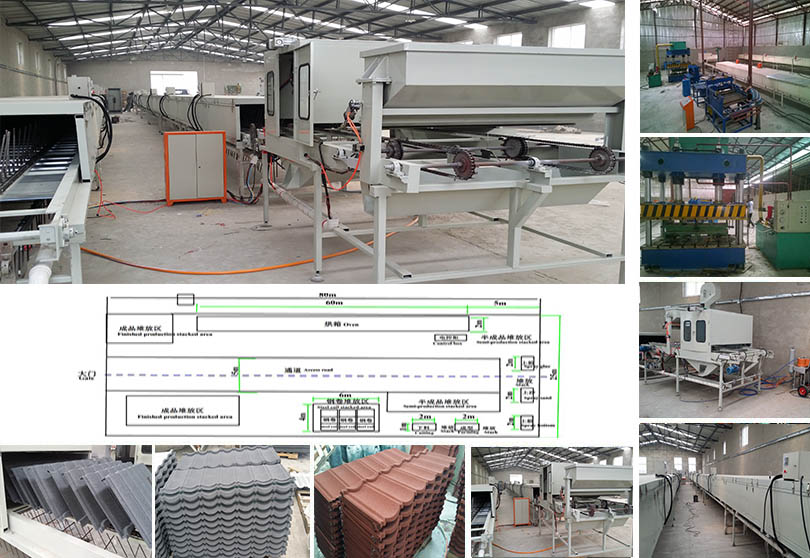 Features of stone coated roof tiles made by our machine:
Resist to artificial climate aging: 100h film no crack, no power, no bubbles, no obvious discoloration.
Heat resistant:90± 2℃,no obvious change.
Low temper resistant:-40 ℃.
Waterproof: 240h no problems.
Detail introduction of working process:
Automatic bottom glue spraying equipment
| | |
| --- | --- |
| Dimension | 4000x1350x850mm |
| Transmission | 2.2 kw |
| Conveying device | Reciprocating chain covey |
| Automatic glue spraying assembly motor | 0.06kw |
| Air compressor | 1 set 0.9 |
| Pressure glue canister | 1 set pressure 0.1-0.6 MPA |
| Glue spraying gun | 4 sets |
| Fill glue gun | 5 set |
Automatic sandblasting room.
| | |
| --- | --- |
| Dimension | 3000x1850x700mm |
| Transmission | Glue spraying with chain transmit |
| Structure | Channel steel, angle steel, welded |
| Automatic sand hopper | 1 set, dimension 550x600x500mm |
| Automatic rising machine | 1 set Rising height:1.9m Power 300kg/h |
| Sand-blasting gun | 4 set |
First drying room 1 se
| | |
| --- | --- |
| Dimension | 25000x800x1200mm |
| Structure | Carbon steel welded |
| Frame type heat preservation wall | Fill up with heat preservation material |
| Auto Temperature controller | 2 sets, range from0-160 degree |
| Infrared fluorescent tube | 50 pcs |
| Cooling device | 1Â  set |
Automatic surface glue spraying equipment 1 set
| | |
| --- | --- |
| Dimension | 3000x850x700mm |
| Transmission | Glue spraying with chain transmit |
| Structure | Carbon steel welded |
| Glue spraying gun | 2 set |
| Automatic spraying assembly | 1 set range of pressure: 0.1-0.6 MPA |
| Adsorption of dust removal equipment | 1 set |
| Manual spraying gun | 5 sets |
Second drying room equipment componen
| | |
| --- | --- |
| Dimension | 3000x850x700mm |
| Transmission | Glue spraying with chain transmit |
| Structure | Carbon steel welded |
| Auto Temperature controller | Adjustable 0-160 degree |
| Conveying device | Reciprocating connection conveys 30m |
| Cooling device | 1 set |
| Automatic printing code and making | 1 set automatic printer |
[gview file="http://www.rollsformingmachine.com/wp-content/uploads/2014/12/Painted-stone-tile-roll-forming-machine.pdf"]